Can I be honest? Cancer Sucks! And this week, he really let me have it!  Forgive me for using the word "sucks" as I dislike that word so much but "Cancer Stinks" doesn't quite have the same meaning.
I have had some high's and some low's this week but the lows are rallying for first place.  It's been a tough one.  I admit to weakness but truthfully I don't spend much time wallowing and crying.  There is too much in my life to be grateful for and God has delivered me from too much to stay in the pity pool.
But this week, even with the great news of my CT Scan and my Bone Scan—which came in yesterday and showed no spreading of cancer in the bones!—I've had some struggles.  But, praise God!   My Lord is mighty to save!  And these dry bones are alive and well. 
And yet, I've had some moments when I've had to let some tears escape me and wash over me.  This week cancer started to destroy my taste buds by changing the flavor of food and making everything taste bland and seasonless.  I don't have a metallic taste in my mouth which many complain about.  Instead, food tastes like nothing.  No flavor, at all.  I stopped enjoying my favorite Halo ice cream, the ketchup I put on everything, and even butter!  It's enough to make you cry!
And I did!  The last couple of times I cried were right before having my friend shave my hair off and then when I had the surgery to put in my port because it hurt so much and because I couldn't hold Noah for days, which felt like an eternity.  For the record, the port still hurts.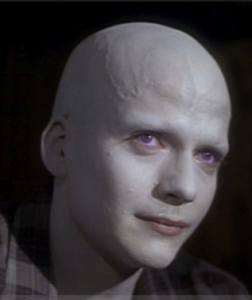 Then, one-night last week, when I went to take off my makeup, I noticed that my eyebrows were almost completely gone.  I was standing in the bathroom mirror staring at my bald head and my bare brow bone and I couldn't help but feel sad.  Without my eyebrows, I looked so strange.  I began to mourn yet another part of my "normal" look as it faded away and was swallowed up by chemotherapy.  Of course, it didn't help that I had just seen the 1995 movie Powder earlier in the week.  I stared in the mirror, cried a bit, and then I sucked it up.  I started painting my eyebrows in and have moved on.
But it didn't stop there.  During the last chemo, last Thursday on 8/24, I was "warned" I would start feeling neuropathy in my hands and feet.  But until you experience it, you don't really worry about it.  And even though this second phase of chemotherapy is supposed to be slightly better than the last, meaning it does not have bone pain, it still brings new struggles.  My hands started to burn when I ran them under water.  Strange feeling that is hard to explain.  Cold or hot water makes no difference.  But my feet took the brunt of the pain.  They started to have a constant tingling, like a perpetual "pins and needles" but on a faster vibration.  And then…that got worse, too.  The tingling became a chafing and burning that slowed me down when I walked and it made me feel old.  And then…the pinky started to feel numb.  And then…I GOT A CALLUS! Right under my third toe and I STARTED LIMPING!
And then…I was told my bone scan would make me radioactive and I couldn't hold Noah for 24 hours!
24 Hours!!  Are you kidding me?  Not hold Noah? He is the best medicine I have. It breaks my heart when I can't hold him.
Of course, I wanted to cancel the test but I knew I would have to take it eventually, so I decided to go through with it.  When I got home, hubby took care of the baby and fed him, changed him, burped him, and all I could do was stare and feel inadequate.  When I woke up the next morning and could barely put my foot down, that was it.  I was really mad!  Not at God.  Never at God.  At cancer!
Really, cancer?  I have to walk you know!  I have to hold my baby you know!  So, I went to my regular doctor and was told to get some Dr. Scholl's callus remover and to see a podiatrist.  Great, another doctor.  Fabulous!  And he's out until next week.
So, I cried in the car while I drove to Walgreens and spoke to hubby who was home holding our gorgeous son.  After, I also vented to my brother who listened to me and told me that he could not understand what I was going through but he knew it was hard and he loved me.  I couldn't hold Noah until 3 pm so I killed some time at Walgreens with my gimpy leg.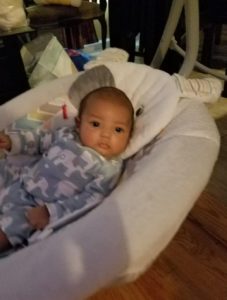 When I finally got home, I held my sweet pea, and all was well in the world again.  Hubby went to pick up my wonderful MIL (mother-in-law) to stay over and allow us some rest.  It's because she's here now that I can find time to write.
Tomorrow is my mom's turn.   I drop Noah off in the morning before heading to chemotherapy #7. Lately, I've been staying at my parent's house from Thursday to Sunday.   Nana, Pop-Pop, and Titi Jeanna (my sister) don't mind.  They enjoy holding, feeding, reading, and loving on Noah while I rest.
But no more wallowing.  When I allow it, it only lasts for a little while.  When I woke up this morning, I was happy to have slept in a little because MIL was here and I had time to pray for Texas!  And even through the foot pain, I was able to focus on the less fortunate.  I found this awesome photo on Pinterest with scriptures to pray for Hurricane Harvey and I remembered that no matter how bad things are, someone, somewhere, always has it worse.  And because I remember that truth, my emotional pain always dissipates.  The Lord carries me through.  I do not receive or allow prolonged sadness.  It serves no purpose.  His mercies are new every morning.   Do not receive worry!  It stays because we allow it too!  Speak against it with the word of God.
I thought I'd share the scriptures to help you pray for those affected by Hurricane Harvey.  All the verses are in the New Living Translation (NLT).  Let us pray for Texas.
WEATHER:  Pray the rain dissipates so the floods recede.
Job 28:25-26 (NLT)
25 He decided how hard the winds should blow
and how much rain should fall.
26 He made the laws for the rain
and laid out a path for the lightning.
RESCUE: Pray for those that are in need of help, that rescuers become aware of their location and they are quickly brought to safety.
Psalm 31:2 
2 Turn your ear to listen to me; rescue me quickly.  Be my rock of protection,
a fortress where I will be safe.
VICTIMS: Pray for the tens of thousands in Texas that will be displaced from their homes indefinitely. Pray their needs are met while they are away and that the Lord gives them the peace and rest that surpasses their human understanding.
Matt 11:28  28 Then Jesus said, "Come to me, all of you who are weary and carry heavy burdens, and I will give you rest.
Philippians 4:7  7 Then you will experience God's peace, which exceeds anything we can understand. His peace will guard your hearts and minds as you live in Christ Jesus.
CHILDREN: Pray the children are comforted as they endure a tremendous amount of change and fear during this time.
Isaiah 41:10  
10 Don't be afraid, for I am with you.
Don't be discouraged, for I am your God.
I will strengthen you and help you.
I will hold you up with my victorious right hand.
ELDERLY: Pray for them as they are relocated to new facilities away from their families and usual caretakers.
Isaiah 46:3 (NLT)
3 "Listen to me, descendants of Jacob,
all you who remain in Israel.
I have cared for you since you were born.
Yes, I carried you before you were born.
RESPONDERS: Pray for their protection and safety as they continue to help those in need.
Deuteronomy 31:6  6 So be strong and courageous! Do not be afraid and do not panic before them. For the Lord your God will personally go ahead of you. He will neither fail you nor abandon you."
DONATIONS: Pray that ample donations are provided and that the right types of contributions are made.
Luke 12:24  24 Look at the ravens. They don't plant or harvest or store food in barns, for God feeds them. And you are far more valuable to him than any birds!
HOPE: Pray for residents as they see their homes for the first time after the flood.  Pray they are provided with the resources to begin the rebuilding process.
Isaiah 43:2  
2 When you go through deep waters,
I will be with you.
When you go through rivers of difficulty,
you will not drown.
When you walk through the fire of oppression,
you will not be burned up;
the flames will not consume you.
Texas is special to me.  Hubby and I spent our anniversary in Houston two years ago with my beloved cousin and her husband.  They live in the Woodlands.  Right outside of Houston and five minutes from Terry Shook's church.   We've wanted to move to Texas ever since.  Of course, what we want has to be what God wants.  My prayer has always been, "Lord, I'd love to move to Texas but only if it would be best for us.  However, if you don't believe so, Lord, please do not open that door.  There is nowhere I'd want to be that you Lord would not follow or want us to be.  Your will, Your way. In Jesus' name, Amen."
On another note, I made my first cancer joke this week.  While hubby and I were about to get on the elevator for my chemo appointment, I asked him to please get me some breakfast.  When he said he would "in a little while," I told him, "that's not nice honey.  You know, I have cancer."  And we both laughed.  Not sure the other people on the elevator thought it was funny.
This week I ask for prayers for my feet.  I can't be an effective Mom with this painful callus and its accompanying limp.  And if you need prayer, please let me know in the comments.  (A word on comments.  When you post a comment, it will not post until I approve it.  Sorry, that it takes me a while sometimes.)
Here is a great site that provides 6 reasons why we should pray.  I plan to write those scriptures out in the future, as well.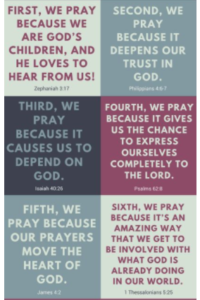 God bless you this week.  Please pray for Texas!
In love and Christ,
Liz